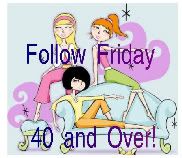 I have had this button on my blog for a while now, and have not actually linked up yet. I usually do Fearless Friday (which I will today) and the Book Blogger Hop on Friday, but this week I wanted to find some other bloggers out there in my *cough* age bracket *cough*. LOL! So welcome to those over-40 Bloggers, I'm looking forward to meeting you! Have a cup of coffee and take a look around! And by way of an introduction:
I am Lily, which is a pseudonym that I use to protect my children from the ramblings of their mother, and my husband from having his wife's name found on a google search while he is job hunting. He has been out of work for over a year now, laid off when his company decided to relocate to Singapore.
So, Lily Thorns (me), is married for 20 years to Mr. Thorns, and together we have six children. They are The Oldest (girl) who is in college, The Big Guy (boy) who is in high school, Tiger (girl) who is 12, Boo (boy) who is 10, Bananas (girl) who is 8, and Missy (girl)who is 6. I occasionally put up pictures of them, and you can see the blog of my children ( a new endeavor in our homeschool)
here.
And there is another bit of information, I am a 14-year homeschool veteran who need to pull out a new bag of tricks this year to freshen up our homeschool. We will be adding transliteracy to our curriculum this year.
All of what I write about here is true, just the names have been changed. Starting in September, I have been invited to write for Catholic Mothers Online. I am very excited and have my first deadline coming up on September 1st.
I am finishing up my classes to become a medical transcriptionist so I can work from home. It is a lucrative career, and I'm probably a month away from finishing. I'm not exactly certain when I will be done because I have gotten sidetracked preparing for our homeschooling year. I also have two other part-time jobs as a librarian and a receptionist.
That is me in a nutshell! Maybe when I lose a few more pounds I will post a picture. I'm probably down over 40 pounds at this point, though I'm not exactly sure because we do not own a scale. I will have to weigh myself, when no one is looking, at Rite Aid or some other public scale!
Have a great day, and WELCOME to all of the Over 40 crowd!