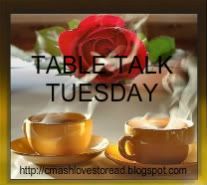 Join the fun by clicking the button above!
My three tidbits for today:
1. I love office supplies/school supplies. They are fun, and they make me happy! :) My favorite one that I recently found when doing a big purge before the school year started: my staple-less stapler! What is your favorite odd thing?
2. I only wear skirts/dresses. Why? Because I love being a girl and boys cannot (or at least should not) wear them! And, I cringe to see slacks riding up or bunching on women. I think skirts and dresses modestly and beautifully frame a woman's figure. I also love they way I swish when I walk! What is your favorite thing to wear?
3. Lilacs, roses, lilies, and sunflowers are my favorites. What is yours?