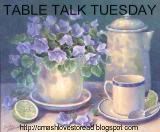 Below are my three tidbits of conversation to get things rolling. Answer in the comments to keep the conversation rolling, and then, link up and start a conversation on your blog. To link up, click on the button above! Have fun, the entire purpose is to get to know you better :)
1. I am currently STILL trying to organize my five students for school. We had intended to start yesterday, but that shall be pushed back to next Monday at the latest. Why am I so far behind? Well, I have 10 bookcases of materials just for school, as well as various odd piles of materials scattered in a couple of random places. After homeschooling six children for 14 years (Oldest is in college now) I have accumulated a lot of curriculum and manipulatives. Therefore, I decided this year, to PURGE AND ORGANIZE first. No matter how long it took. Then, we are implementing a new organizational system that is taking time to set up, but will be totally worth it in the end (workboxes). Did you have a big project this year?
2. I love audio books because I can pursue my other hobbies while listening. I also use them extensively in my homeschool program. Interesting audios, when used as a read-alongs, have been the turning point for some of my reluctant readers!! Do you listen to audio books?
3. Some of the hobbies I like to pursue while listening to my audio books are: Crocheting, cross stitich, sewing and all sorts of crafts. I am hoping, with my new organizational system for school, to get back to both listening to audio books and crafting again. What hobbies do you pursue?
Looking forward to your answers, and feel free to join me :)