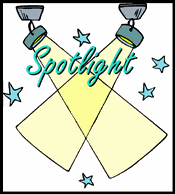 This week I have chosen to highlight a new-to-me blog:
Sacrificial Diet
.
This blog is written by Angela, who also writes Free Spirit Haven, the blog that sponsors "Fearless Friday."
Angela has gone from (I think) 245 lbs, down to 110 lbs. But she has done so without dieting, but by utilising the tools given to us through the Catholic Church, tools often forgotten. She has utilized, prayer, fasting, and sacrifice.
Fasting is something I believe in, something I have been able to do, successfully. But I have never applied it to lose weight. I have used it for many other goals, but not for weight loss. DUH! Light bulb moment here. Fasting through prayer, sacrifice, penance, to lose weight. Through regular, disciplined (not willy-nilly) fasting, Angela has acheived a tremendous weight loss, and improvement in her health and emotional/spiritual well-being.
One of the things I just love about Angela is the fact that she tells it like it is. If it is on her mind, in her heart, she shares it on her blogs. She doesn't hide, she shares her struggles, and you can comiserate and draw strength from it. You know you aren't alone.
Go to her blog, leave her comments, learn from her triumph over food. She is an inspiration, and she has done it while staying true to herself, putting God first. How awesome is that?